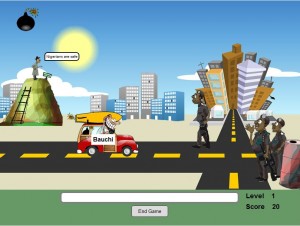 Typing Master is a typing game I designed with intent to improve on typing speed. I normally find it boring using a typing lesson software because it just looks too serious.  Learning to type is extremely boring and stressful, and people prefer to chat on IMs to improve their typing skills.
I chose the "Boko Haram" scenery to add more fun to the game. The whole hype and situtation of the Boko Haram in Nigeria makes people really excited about it. It's all about having fun while typing and nothing more.
People have asked me several questions like "how did you do it?", "how long?"… well I smile about it all the time. It took me half a day at work to develop it! I was bored and had time to spare. I had an idea of designing a game already  and I had checked my Twitter timeline and all I could see was updates about Boko Haram, then I thought why shouldn't I do something that people could play, have a laugh about and get some value out of it.
For those that have asked about technologies I used, here is a list and you can do it too!
JQuery/Javascript
HTML5
CSS
Fireworks/Photoshop
Here is a link to play  : Typing Master and make you you share with your pals 🙂
Anyway that's about it
Thanks
Salamtura