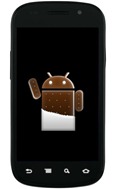 I just did this on my Nexus S and decided to share. The ICS for nexus has begun rolling out from Google. It's annoying that this has to be done manually for now. I did a lot of googling to find an real way of going around it. So if you have a Nexus S and want the new Ice Cream Sandwich OS on it here's a way.
The update is for the GSM version of the Nexus S, not the CDMA one. Please note that if you are rooted or even running a rooted stock ROM, this update may not work for you. It is advised that you to revert to a completely stock Gingerbread ROM on the device and then proceed with flashing the update.
Requirements:
Instructions:
To begin, download the update form the link above, rename it to update.zip and copy it to the root of your SD card.
Power the phone off and reboot into bootloader mode. (Hold Volume up and the Power button.)
Select Recovery from the menu to boot into recovery.
When you see the warning triangle and arrow, hold the power button and tap volume up. You'll see a menu.
Select apply update from /sdcard and select the update.zip.
Once the update is flashed, simply reboot your device and cross your fingers.
Your Nexus S should boot into the new ICS firmware if all goes well.